Inaq Aini Hukmi has succeeded in raising her children and sending them to school. One has just graduated from university, while the other three just finished high school. From Aini, we learned how tenun has become an essential investment for women in Lombok. 
It was early morning when we arrived at Pringgasela. Inaq Aini Hukmi, a senior weaver from the area, had begun her morning, cooking for the family and getting herself ready to go to the mosque for Subuh prayer. We waited in front of her house and searched for good spots for pictures. Just after fifteen minutes, she came back to her house and immediately began weaving while answering some of our questions.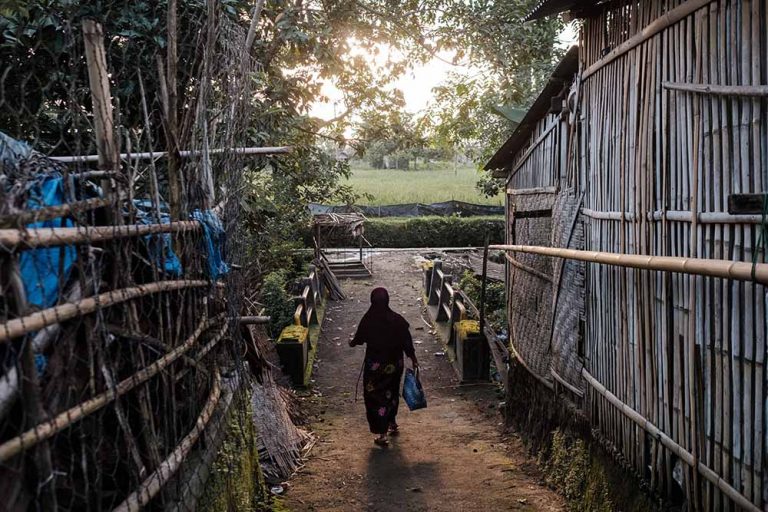 Among other weavers, Aini is one of the elders. Therefore, she speaks the native language of Lombok rather than Indonesian. She doesn't like to be in the center of attention. When we asked her about herself and her personality, she only answered, "I am an ordinary person," with a delicate smile. Even so, we knew she was an extraordinary woman. We  felt her energy when she stood up and walked hurriedly to the rice fields: "I must go to the rice fields now! Just come along with me," she said, in native Lombok language.
The True Chameleon
It was not even past six o'clock in the morning, and she had changed her role four times in less than half of the day. First, as a housewife, second as an obedient Muslim, third as a weaver, and fourth as a farmer. She walked as if she kisses the earth with her feet, lightly and quickly. Even as young people, we had difficulty keeping up with her as she walked to the rice field.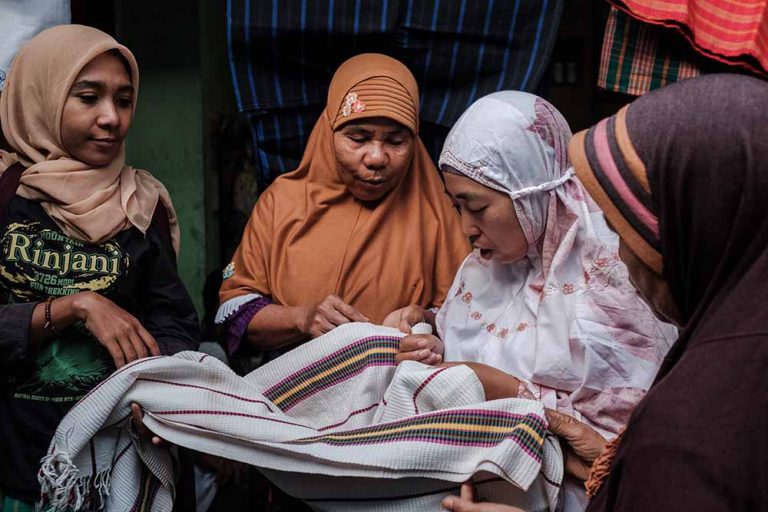 After Aini was done with her work in the rice field, she invited us to go back to her house. There, she continued weaving and shared stories of her life. When she was a little girl, she was assigned by her parents to plant tarum (indigofera tinctoria, an indigo natural coloring plant) as indigo was an essential color in tenun. Aini only finished elementary school, so she was proud when she said that two of her children managed to finish school high school, another one even managed to get a degree from university.
On Updating Her Dream
It was no surprise that Aini was proud of herself for sending her children to university by selling tenun. "I stocked up kain tenun as savings for financial emergencies. So when I needed to pay for my children's tuition, I sold them" she said while showing us a pile of tenun that she had made. "It was still in the 80s and I could sell these woven fabrics easily in the market. One tenun was valued around ten up to thirty thousand rupiahs, and I could sell ten or even fifteen pieces of tenun. At that time, it was a large amount of tenun and indeed, a big amount of money. It was more than enough for the tuition, so I used the rest to buy gold," she continued. "If I had not weaved tenun, my children would not have been able to go to school".
Since she was a little girl, Aini never had any idea of what she would become in the future. Even with all the limitations she faced, her achievements in life were bigger than herself. When we asked about what success meant to her, she replied in a delicate tone, "Success means that there is enough money to send my children to school. I managed to send my children to high school and even university. Now I want to be able to go on Haj, a muslim pilgrimage, maybe in the near future".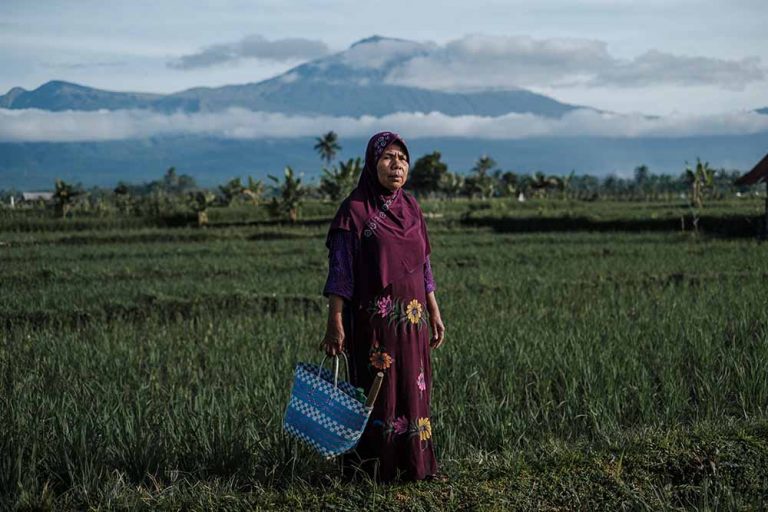 As A Mother; Doing What's Needed For Her Family.
There is no wishful thinking from Aini, but we know that she's being herself: honest, sincere, and noble. Despite her various roles, to her, she has only one: a housewife. In reality, Aini has developed so much of herself, beyond just bringing food to the table.
Aini practices business understanding despite not having a formal education in business. Her gut, skill, and knowledge in business has provided for her, her children, and her family to have a better future. We believe that Aini still has a lot more in herself to develop, especially in financial management and future oriented business strategies. Yet, the perspective of the weavers in Lombok, including Aini, are still fixated only in the terms of survival. Therefore, this particular kind of training will be needed for them.