After the death of her husband, Inaq Sepaah had to fight for life, for her and her four children. She's a respectable weaver, making her living as both a freelance weaver and an independent weaver. We can learn about weaving as a unique service business in her article.
Grek grek grek grek, we met Sepaah while she was working on one of the most difficult processes of tenun: setting up the rane. This stage is a part of the pattern making process, done by a tool called anik, and supported with a tool called erek-erek. Like a magician, Sepaah arranged blue threads to be combined with yellow threads and a small amount of brown threads with her agile hands, carefully, one by one. Eventually, she rolled the thread and put it into a bag. Walking quickly, she handed the finished thread to her neighbors. "This is a commissioned work, my dear," said Sepaah. She was wearing a yellow veil with colorful decorations underneath, which combined with blue pants created good color harmony. Even though she never attended a design school, Sepaah has a good taste for aesthetic. Compared to the women in the village, her appearance is very distinct and eccentric.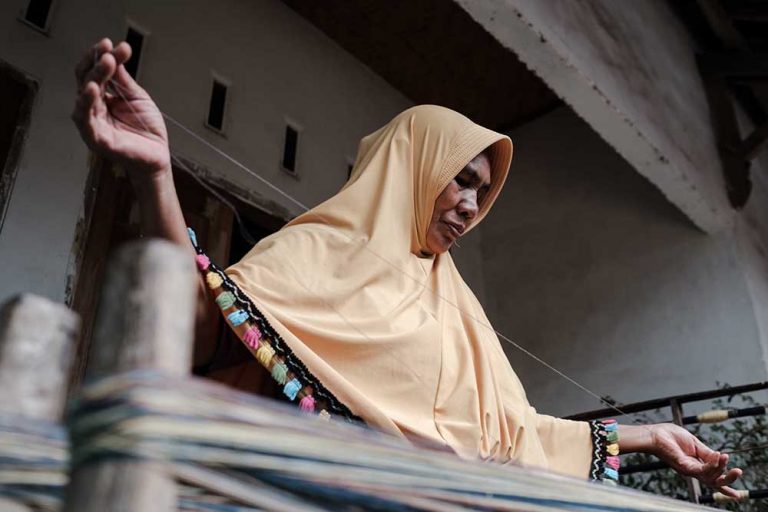 Like common senior residents in Pringgasela, Sepaah is not fluent in Indonesian. Even though her mother passed away when she was little, she still had the chance to go to elementary school. Raised only by her father, Sepaah did not come from a privileged family; there were times when she could not afford to eat. That was why in her early teens, she helped her father raise five of her other siblings. The women in the village were making some money from weaving, so she began to learn how to weave from her neighbors. It didn't take a long time for Sepaah to learn weaving. Just after she finished her early tenun, she was commissioned by her neighbors to weave. Her work soon grew popular because of its meticulous details. Because of her high craftsmanship, many people gave her commission to make tenun. After she collected the money, she thought about producing her own tenun, so she bought threads and weaving tools with her savings. This was the beginning of how she became a weaving artisan.
On Riding The Waves of Life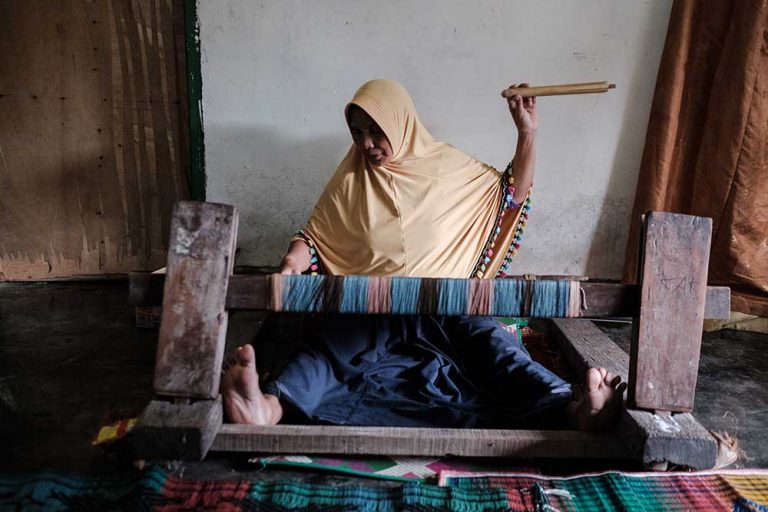 Sepaah has been through a lot – the highs and the lows of life. She was married and gave birth to four children, only three of which survived. Her second child passed away when he was young. After her fourth child was born, her husband also passed away. She couldn't keep count of how many times she cried. Despite many challenges, Sepaah was able to send her children to higher education level by working as a housekeeper, a freelance weaver, and a weaving artisan. Fortunately, her third child works abroad in Malaysia and her first child has just graduated from college. Through Sepaah, we came to understand that the tradition of tenun has a great impact on economic empowerment.
"No one in Lombok is idle, ever," said Sepaah, in the native language of Lombok. Because of her high craftsmanship, she is able to perform much of the complicated weaving process. For example, the rane process requires a high degree of accuracy, while the nyusuk suri process requires one to insert thread one at a time into a comb-like tool before it is ready to be woven. At the present, she is still able to finance her household as a full-time weaver.
Sepaah's Hope: From Textile to Ready-To-Wear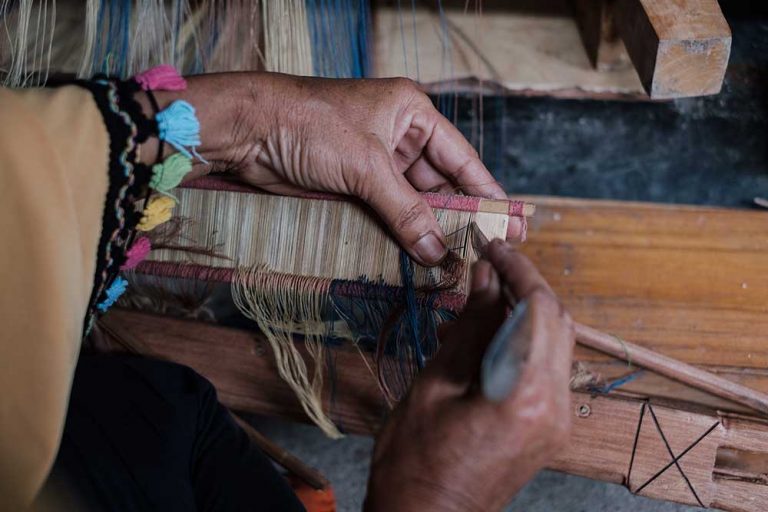 Living in the rural areas as women has its own challenge, and Sepaah's experience represents one among many. Many weavers have refined craftmanship and exceptional aesthetic sense. That's why, tenun, or other weaving product, is always on demand. However, Sepaah still hopes that there will be more marketers or agents who can distribute Pringgasela's tenun products to areas outside Lombok. In addition, training in product development is necessary so weavers in Pringgasela can create ready-to-wear and ready-made tenun products. As the market matures, there is a growing opportunity for knowledge exchange between markets and producers, so that product development could happens organically.