As a treasurer of Nina Penenun, Nely has learned tremendously from her participation in the organization. This women organization not only helps Lombok women be independent, but also help them achieve self-actualization.
Her body trembled and her blood pressure rose many times before she joined Kelompok Nina Penenun. This is the story of Nely Sofiana, a treasurer of an activist group concerning weaving from Pringgasela village, East Lombok. "You'll never guess this! But, I wasn't healthy before and I didn't feel like myself. I had hypertension! But ever since I joined this group, I've felt so much better!," said Nelly enthusiastically.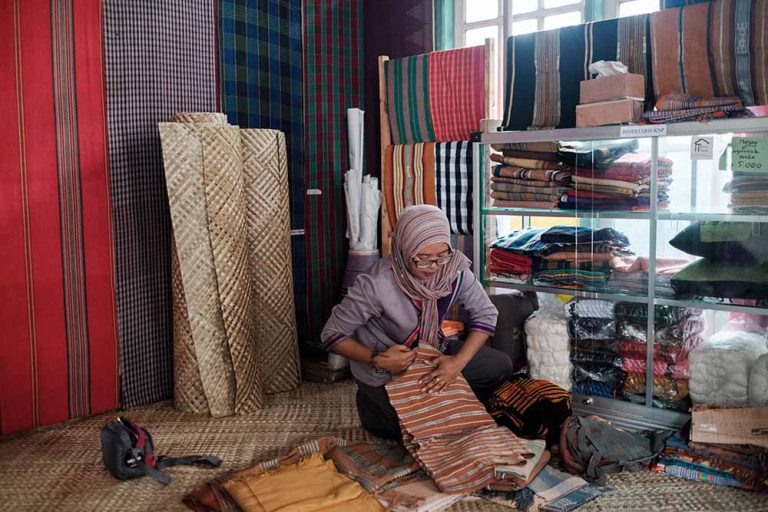 When we came to meet her at the Bale Tenun, a place where the group gathers and has discussions, she showed each of the weavers' tenun products. The motifs are indeed, humble, but the delicate colors taken from plants is what makes Pringgaela's tenun precious. "We take the colors from plants, usually from the beach. Since it's organic, so the consistency of the colors range from one to another," this explanation from Nely moved our hearts and we wanted to get our hands on Pringgasela's tenun. She did offer us a discount if we bought some.
Loud and Intense: The Roar of Women's Voice in Pringgasela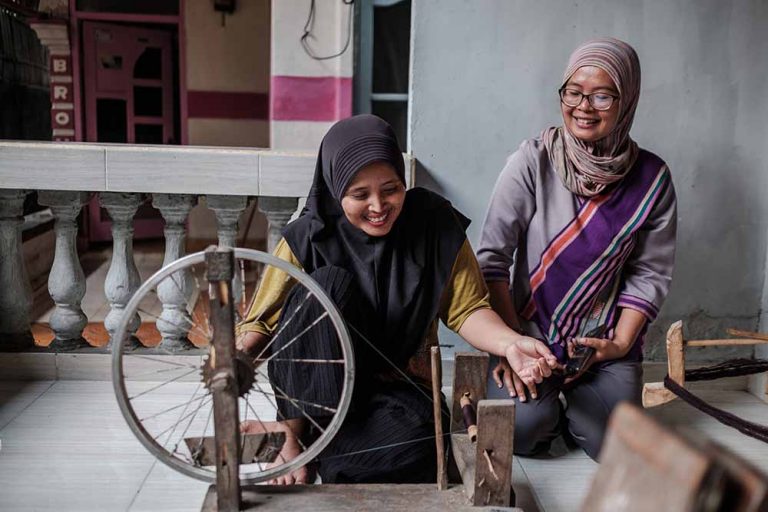 Thankfully, Nely told us that it was such an achievement for women in Pringgasela to be not just accepted but also listened to at the village forum's discussion after they joined workshops from Gema Alam, one of the local activist groups that partners with Nina Penenun. Before that, women in Pringgasela felt inferior in public. "Duh! Women were not confident back then. Really! They said they would rather be in the kitchen". However, after attending workshops in Pringgasela, women started to go out more, and willing to raise their voice more, like joining discussions in the village chief's office. Starting this year, there is a fund dedicated to women's issues. These issues can be simple, but when women are alone, like widows or those whose families are apart or passed away, this fund is also for them. From movements like these, Nely sees that Nina Penenun brings so much goodness for her, for the women, and for the people of Pringgasela.
In Debts to Sustain The Weaving Tradition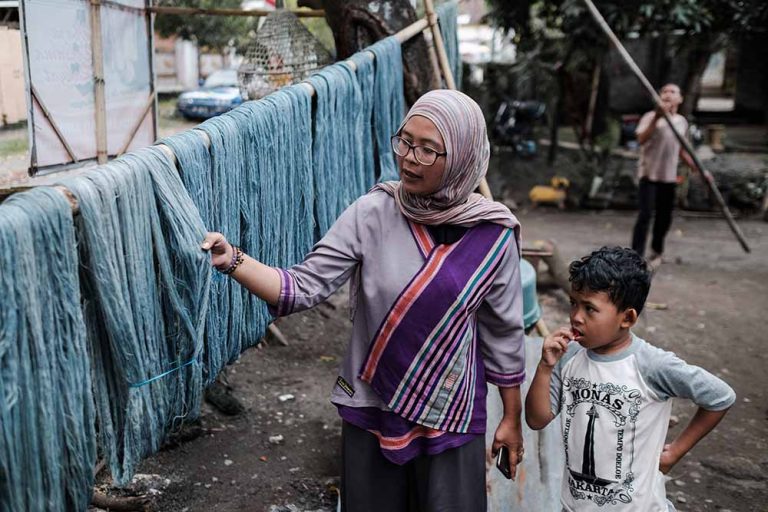 "Weaving is our pride here. If you don't weave, duh, you are a shame to the family! That's why many people here borrow money to buy threads. Nina Penenun was established for this financial problem. It was made for the weavers who borrow money from the middlemen and for the weavers who sell their tenun at a low price to the wholesaler. It's a disaster when they run out of money. We're worried that Lombok's tenun will be gone!," explained Nely about the whole situation. Nely felt frustrated during her first six months as a member of Nina Penenun as she didn't see the point of joining the group. "But, after quite a while, I learned how to discuss, plan, and organize things. I was also sent to Jakarta and learned many ways to convey my aspirations as a woman ".
Besides being the treasurer, Nely took on another role as supervisor of production, "Of all the weaving processes, I love the coloring process the most. As such, I was happy when I got the responsibility to oversee the production process," she explained. When we followed Nely to hustle around the village, it was clear that she enjoys her job.
The weavers treat her respectfully, even though she is still relatively young. Nely plays an important role as one of the changemakers. The people around her also admitted that Nely is a very dedicated person. Unlike most of the women around her, she is fierce and assertive. Even though she is known for being tough, she feels that being firm to her values is needed to encourage more women to develop.
On Computer and System
From the stories that Nely told us, one cannot help but feel the urge to help and facilitate women to do their roles, especially in organizational management. Nely herself thinks that the basic ability to operate computers or digital devices is very important to be taught to the community. As a rural area, Pringgasela is still a long way from modernization. With basic training in operating digital devices, women in Pringgasela can understand the digital system deeper and learn to work more systematically.