Since she was a little girl, Srimanggis has enjoyed experimenting with business. She started to sell tenun when she was in junior high, working in an art shop, and now, he supervises farmers for crop goods. Her curiosity has led her to accumulate knowledge in tenun's marketing. If you want to find out about the most desirable tenun pattern in Lombok, go to Srimanggis!
She moved quickly in little steps, looking sharp and always ready. That was our first impression of her when we met Lale Srimanggis. When we visited her home, she showed us the most valuable tenun pattern in Sukarara, Subehanalle. The name itself is derived from the Arabic word, Subhanallah, an expression of wonder, often used by Muslim. "It is called Subehanalle because it was made in a dark room, so the weaver could not see the pattern from the beginning. When the cloth was finished, they took it to a brighter room, and suddenly "Subhanallah," because the tenun pattern was so beautiful!," Srimanggis exclaimed.
Srimanggis and Her Entrepreneurial Skills
"I got the skill to weave when I was in middle school, and I sold my work at Pasar Praya. It turned out that many buyers liked my work. At that time I was able to sell my tenun products for 200,000 rupiahs, from a capital of 70,000 rupiahs to buy the yarn. Hence, I made 130,000 rupiahs as profit. Do you know what I did with the money? I got myself body lotion! It was true happiness for me knowing that I could buy my own stuff, without having to ask my parents," she explained.
Her entrepreneurship skill is what took Srimanggis to not just weave, but also to sell her tenun. "Every time I got money, I went straight to Pasar Praya to get myself some makeup. You know? Some cream, loose powder… Oh, and jewellery!," said Srimanggis with happiness in her eyes. Based on this experience, she understood that as a woman, she can be economically independent as an entrepreneur. Now, she has several businesses in various range of products such as livestock, crops, and weaving. She also turned the money she got from her business to another investment, such as jewellery. Jewellery is the way to Srimanggis' heart. Now, she has 12 pieces of jewellery that she uses as deposits in which she could sell quickly for emergencies such as school tuition of her children.
Aside from being an alternative source of income, weaving also provides young girls with the ability to learn about finance and entrepreneurship. Srimanggis learned these skills when she worked in an art shop for one year. There, she got the chance to learn how to manage finances and find out how to run a weaving business.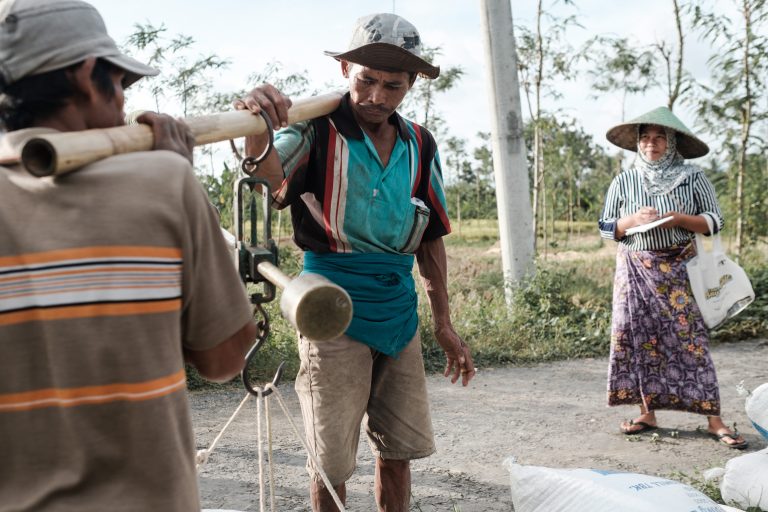 The Lady Landlord of Sukarara
A mini red truck stopped in front of her house. It didn't take long for her to ask us to join her while she was working on the field. As we were heading to her field, we drove through the rice fields with banana trees on the side of the road. "Now is the harvest season for us. I don't have time to weave because I need to supervise people in the rice fields," Srimanggis said. Apparently, she and her mother are landlords of several rice fields in Sukarara. When we arrived, the farmers were busy harvesting the rice. They were just finishing drying the rice under the sun and they were laying it down on the edge of the rice fields. Srimanggis brought a notebook to record the weight of the sacks to be sent to the buyer where she could get the harvest to quintal counts. The farmers seemed respectful and happy when they saw her. Really, it was unbelievable that a person could have such warm and respectable charm at the same time.
Srimanggis is one example of talented women from Lombok who manages her time in various roles; from landlord, to weaver, to a tenun agent. With her double roles as weaver and agent, she sees the urgent needs of tenun from both sides. "Well, I hope there's a workshop for thread dyeing. It's needed to minimize the cost of threads as we won't have to buy from the town," said Srimanggis. From the thread dyeing workshop, she hopes that the weavers can create new contemporary patterns and color, so the products will be more widespread.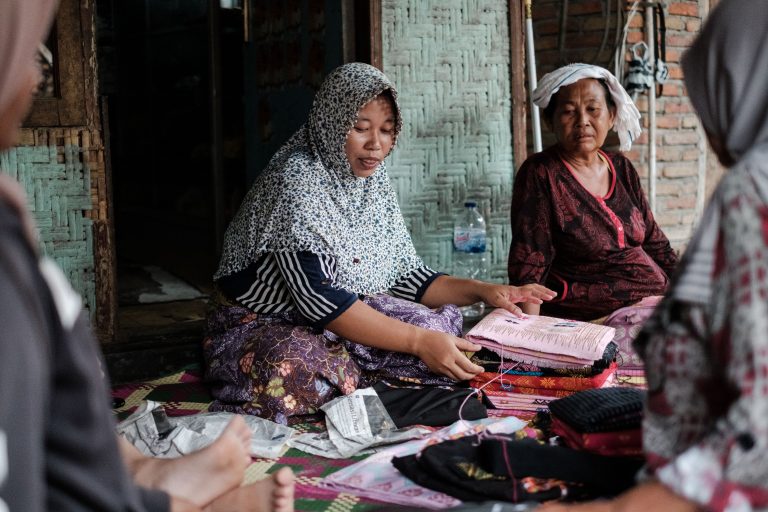 "I hope that Lomboknese people, especially like us, from villages, can be more confident when they meet important people, or people from the city, so we can advertise our tenun to more people. Not just to Lomboknese," Srimanggis's dream is based on her wish so that the work of Lomboknese women will be known to a wider scope. Thus, more Lomboknese women are economically empowered.