Known as Ana, Sri Mila Hardiana is a successful Tenun entrepreneur from Sukarara. We asked her about the challenges she faced in her business, and how she was able to balance local tradition and modern business strategy.
"Initially I just wanted to try it, I was walking a thin line between being brave and reckless. Instead of being idle, I think of it like doing a lucky draw. That is why I posted these tenun goods on social media. Ah, it turns out that I am very lucky "
Sri Mila Hardiana, known as Ana, is a tenun goods entrepreneur from Sukarara. She was born into a family of entrepreneurs where both of her parents run businesses, her mother with her furniture and daily goods, and her father, who was once a truck driver, with his logistics company. Ana is the first child with a younger sister, who is also an entrepreneur in a similar industry, fashion.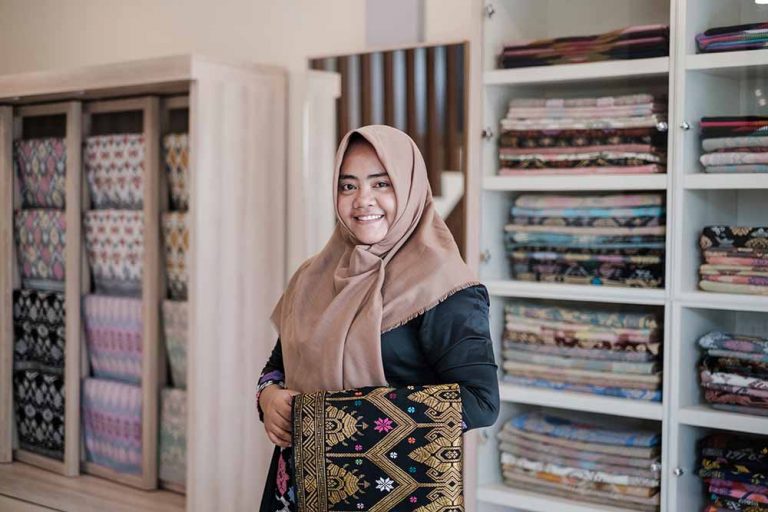 Her encounter with entrepreneurship started in the first year of study at the University of Mataram as an economy student. Learning some basics from university, she sold cosmetics and bags online, in which she used Facebook as a marketing tool.
We paid a visit to her house. The first view was her small pavilion, decorated with three weaving tools. Two weavers were doing their work when we arrived. Shortly afterward, Ana appeared and invited us to her tenun goods gallery located at the facade of the house. Ana is social media savvy, even when we were interviewing her, she goes back and forth to take photos so she can post it on Instagram story. From her business, Ana gets an average profit of 75 million rupiahs every month. Even so, she encountered many difficulties when she first started her business.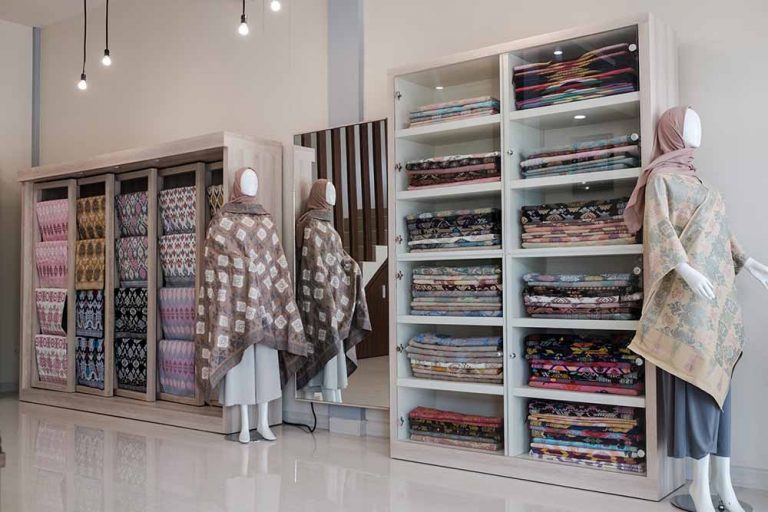 Ana's Challenge When Starting Her Woven Goods Business
"No!" Ana yelled in excitement when telling us her story "The problems were mostly from the weavers. I was riding my motorbike alone in Sukarara on hot sunny days to find weavers who would want to work with me," said Ana. But finding weavers is not the main problem, instead, the problems came from the differences in aesthetic tastes and motivations between her and the weavers. "They have their own desires, and sometimes, they also refuse to weave difficult patterns because they are used to weaving from whatever threads they have. Not to mention that they don't have a fixed schedule to weave. I am a perfectionist myself. If the tenun is not good, I will not buy it," said Ana.
Apart from those problems, Ana also explained that she had communication problems with the weavers. Color is very important in kain tenun; however, Ana and the Lomboknese weavers use different languages to describe colors. One time, when Ana said that she wanted a dark blue, instead, the weaver used lighter shade of blue.
With soft pastel colors, the woven fabric that Ana sells stands out amongst the kain tenun produced in Lombok. Ana designs her own contemporary pattern based on her modification of the traditional pattern. In the designing process, she uses digital media and references from the internet.
Another challenge Ana faces is the downside of digital devices and media. As it is more efficient to sell goods online, some people in Lombok who have never used the Internet, are worried about whether to trust her or not, especially when it comes to making transactions. Aside from that, her designs can be stolen by her business competitors.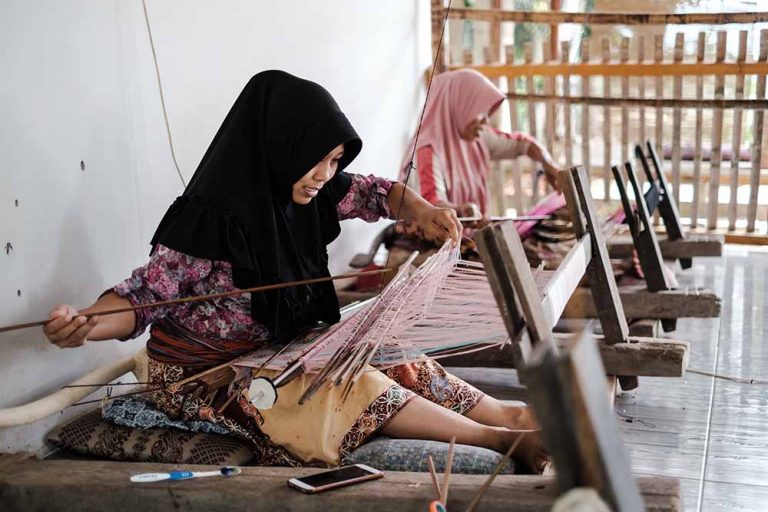 Ana and Her Skill to See and Seize Opportunities
Despite the difficulties mentioned above, Ana has managed to develop strategic decisions for developing her business. Recently, she started to hire some weavers to work full time to meet the demand. Another strategy that she does is endorse events in Lombok, such as like the local beauty pageant Putri Mandalika. From this beauty pageant, Ana's tenun is known as Putri Mandalika Tenun. As her tenun rises on the runway, she receives not just exposure, but also opportunities from government.
As an entrepreneur, Ana is a pioneer in creating an entrepreneurial ecosystem in Lombok, a place where various limitations mirror the conflict and tension between traditional culture and globalism. Basic yet essential complications, such as language, habits, traditional norms, and the inability to use technology are challenges to overcome before making any specific developments.